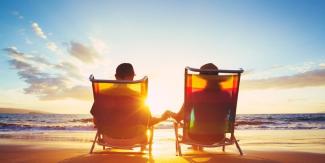 Client Profile: How We Helped A Client Successfully Prepare For Retirement
By Kaley Bockhop, CFP®, CPA
Recently our clients approached us with a dilemma. This couple wanted to retire a few years early without hurting their retirement to spend their golden years doing what they loved to do as a couple: travel. However, they needed our help to create a plan that enabled them to do so. 
At Rosemeyer Management Group, we love helping our clients implement the financial tools today that will enable them to reach their retirement goals tomorrow. In this article, we describe how we helped this particular couple achieve their goal of retiring early to chase their post-career life goals. 
Client Background
This couple had been with Rosemeyer Management Group for about three years. They had a blended family, the wife with two children from a previous relationship that were now adults; and with a four-year age gap, she had already retired. They also loved to travel and had been planning their dream trip for quite some time: a 30-day South American tour that stopped on the frozen continent of Antarctica. 
They wanted to start their retirement adventures as soon as possible and wanted to know if they would be able to manage a full retirement if the husband retired at age 60. Having a blended family also prompted a disagreement over who would receive what upon their death. They also underestimated how much they were spending by over $20,000 per year. 
Our Client-Based Solutions
The most important thing that we can do for a client is to create an accurate cost-of-living assessment. As we stated before, this couple was operating on a financial plan in which they had underestimated how much they were spending by over $20,000 per year. Once we corrected this oversight, we then created a plan that would allow for the husband to retire at 60 so they could spend more time together traveling. We also came up with a strategy to bridge the years between when he was receiving his employer-sponsored health insurance and the year that he would become eligible for Medicare.
As far as the disagreement over the estate, we ended up connecting them with an attorney who specializes in this area. With the help of this attorney, the couple was able to talk through several major issues and ended up establishing a living trust. 
In examining their wealth management strategy into retirement, we discovered that a good amount of their assets were in a pre-tax 401(k) account. We established a plan that would convert some of those dollars to a Roth account once the husband had retired and was no longer receiving a salary. We also reviewed the couple's portfolio to ensure that it was appropriately invested to withstand risks and market volatility. 
Finally, we reviewed several existing life insurance policies that had been overlooked for years and found that the policies could pay the premiums.
What Successful Retirement Looks Like
With our help, this couple will be able to live out their adventures in retirement as they had planned. The husband was able to retire at age 60, and although COVID-19 has slowed down their traveling plans for the moment, the couple is looking forward to many more years of traveling together. All in all, the couple has a solid wealth management plan and is prepared to manage their retirement with all the confidence they deserve.
We Are Here For You
If you are concerned about your wealth management plan or have a question about your retirement, we can help. Schedule an introductory appointment online or call 608-348-2274 to schedule an introductory appointment. For any questions, feel free to reach out to me at kaley@rosemeyermg.com.  
About Kaley
Kaley Bockhop is an investment advisor representative at Rosemeyer Management Group, an SEC Registered Investment Advisor based in Platteville, WI. Kaley's experience in taxes and accounting and her financial planning expertise allows her to help her clients work toward their retirement goals and set themselves up for success. It is Kaley's goal to partner with her clients to build a customized road map for their finances so they can look forward to a comfortable retirement and decrease financial worry. Kaley is a CPA and a CERTIFIED FINANCIAL PLANNER™ professional. She has a bachelor's degree in science from the University of Wisconsin-Platteville with a triple major in accounting, agricultural business, and animal science, and a minor in biology. In her free time, Kaley enjoys working on her family's farm where they raise nationally recognized registered Angus show cattle. She also loves exercising and traveling. To learn more about Kaley, connect with her on LinkedIn.