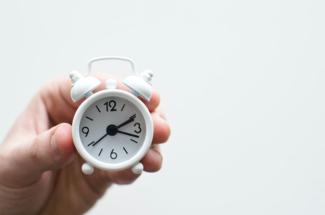 The Cost of Inaction: How Not Having a Financial Plan Can Hold You Back
We live in a world where our attention is demanded at every turn. There are so many decisions to make and tasks to accomplish—and it's all vying for your undivided focus. Since we can't focus on everything all at once, we make intentional choices to push some things aside until we can give them the proper attention. The problem is that sometimes we push things aside that might not seem important at the time but are in fact vitally important for your future.
Financial planning can be one of those things. It might seem "boring," especially if you have plenty of years before retirement. However, if you ignore this critical piece of your life, you might find yourself in trouble down the road. Here are some factors that show why financial planning is more critical now than ever before.
1. You're Probably Not Saving As Much As You Should
The first reason you shouldn't put off financial planning is that you're probably not saving as much as you should. That's not to say that the savings you do have shouldn't be celebrated. But no matter the amount you have, you need to be sure it will be enough. 
If you plan to retire in your mid-60s, your retirement savings may need to carry you through 30-plus years. Not to mention rising inflation that will decrease the value of your savings over time and the additional expenses you will likely encounter along the way. A study by Vanguard estimated that the median retirement savings of Americans ages 55-64 is $89,716, yet the average retirement cost is nearly $46,000 per year! At that rate, a savings of around $89,000 won't even last 2 years.
A sound strategy to avoid running out of money in retirement is to work with a financial professional to understand what your savings can handle. Contrary to popular belief, you cannot use a multiple of your annual income to determine how much to save. This is why it's so crucial to plan ahead. The sooner you understand your need, the more options you will have and the easier your goals will be to accomplish.
2. Healthcare Costs Are on the Rise
If you've ever held a hefty medical bill in your hand, you aren't alone. Healthcare costs in America are among the highest in the world. And as you age, you will likely require more healthcare services. According to the Fidelity Retiree Health Care Cost Estimate, the average couple at age 65 will need about $315,000 saved to cover healthcare costs in retirement.Most people don't even have that much in their retirement accounts to live on, let alone cover medical costs.
Given the events of the past few years and continuing inflation, it's more important than ever to start preparing for the ever-increasing cost of care. The longer you wait, the less options you'll have. Working with an experienced professional can help you evaluate your options and build a long-term plan for healthcare. 
3. Tax Strategies Take Multiple Years to Implement
Another reason not to put off financial planning is that if you don't start early, you'll miss out on several tax strategies that take years to implement, including:
Tax-Advantaged Retirement Savings
If you're in a high tax bracket, being able to save for retirement with pre-tax dollars is a great advantage because pre-tax contributions reduce your taxable income and ultimately reduce the amount of taxes you owe. This strategy could save you thousands of dollars in taxes each year. The earlier you start, the more you'll save over the course of your career. 
Roth Conversions
Roth conversions help to increase your retirement savings and decrease your long-term tax liability by transferring funds from a pre-tax retirement vehicle (traditional IRA) to an after-tax account (Roth IRA). This allows your money to grow tax-free for as long as you'd like, and required minimum distributions (RMDs) are avoided as well. 
Withdrawal Strategies
When it comes to withdrawing from your retirement accounts, how you take your distributions can make all the difference. Each retirement asset (employer-sponsored accounts, Social Security, traditional IRAs, etc.) has different tax characteristics. Creating a withdrawal strategy can help lower your tax burden by structuring withdrawals from each income source in a tax-efficient way. 
To properly implement these strategies and more, a long-term understanding of your full financial picture is required. Putting off financial planning can leave you stuck with a huge tax bill that could have been avoided.
4. Take Advantage of Compound Interest
Just as saving early allows you to take advantage of massive tax savings over time, there is a compound effect that occurs with the money that is invested as well. The money contributed to your retirement account each year can grow exponentially over time, but the key part of that equation is time. 
A single penny that doubles every day for a month may not seem like much on the surface, especially when compared to $1 million up front. But by the time the 30th day rolls around, you will have over $5 million in pennies. This same concept can be applied to your retirement account, but because retirement investments are at the mercy of the highs and lows of the stock market, it will take more than 30 days to see that kind of growth. 
If you wait to invest, you may be missing out on growth year after year, and the resulting loss of earnings can be substantial. Not to mention the potential for loss when you try to invest yourself without the proper advice and guidance of a professional. 
5. Financial Planning Can Alleviate Stress
Do you feel 100% confident about the myriad of financial choices you make day in and day out? Have you encountered more complexity as your assets have grown? Partnering with a financial professional can help alleviate the stress and anxiety that comes from trying to figure out your finances. 
Think about all the time you spend worrying over finances and whether you are saving enough money. Are those thoughts preventing you from making great memories and actually living your life? For many, the answer is yes. But it doesn't have to be that way. 
Financial planning can help alleviate the stress that comes from not knowing where you stand or how to achieve your goals. It can provide clarity by defining a path from point A to point B and allowing you to get the most out of your life along the way.
Get Started Today
Financial planning is not just a tool to organize your future, it is a vital factor for making your hopes and dreams become a reality. Working with a qualified professional can help you turn those dreams into tangible steps that connect with your values. 
At Rosemeyer Management Group, we strive to be our clients' trusted advisor in all things financial and help them face the future with confidence. Don't leave the most important things in life to chance. Schedule an introductory appointment online or by calling us at 608-348-2274. For any questions, feel free to reach out to me at carter@rosemeyermg.com.
About Carter
Carter Klaas is an investment advisor representative at Rosemeyer Management Group, an SEC Registered Investment Advisor based in Platteville, WI. Carter focuses on the people behind the dollars and cents, forging long-lasting relationships with his clients. Using clear, measurable financial goals, Carter works to bring financial confidence to those he calls clients through education, intentional planning, and a strong relationship built on mutual trust. By planning comprehensively with investment strategies, risk management strategies, retirement planning, tax planning, and estate planning, Carter makes sure all the pieces of a person's financial "puzzle" fit and work together for their goals. He is dedicated to personalized planning because he realizes that the wide-ranging experiences and emotions revolving around money demand a custom-fit plan. Carter has a bachelor's degree in personal finance and financial planning from the University of Wisconsin-Madison.
When he's not at work, Carter enjoys spending time with his wife, Natalie, and their Goldendoodle puppy, Willow. You'll find them taking walks, drinking wine, bike rides, and being near the lake. To learn more about Carter, connect with him on LinkedIn.