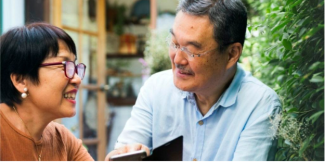 How to Know if Your Retirement Savings Will Last the Rest of Your Life
A survey of retirees found that 56% of Americans are worried about having financial security in retirement. (1) It's no wonder retirement planning is stressful to so many. Even if you have an ample nest egg, risk factors like healthcare costs, inflation, and market volatility are out of one's control, making it impossible to predict how well your retirement savings will last the rest of your life. Thankfully, there are some things you can control that can make all the difference in maintaining your lifestyle in retirement without fear of running out of money. 
Plan, Then Plan Some More
While it's true that you can't predict the future, you can alleviate some of the stress from uncertainty with thorough preparation. The retirement planning process goes beyond common financial rules of thumb to identify your specific goals and time horizon, assess your current financial situation and future retirement income needs, and create strategies for saving and investing to reach your retirement goal. Consider your retirement plan a road map to your goals. With it, you can be confident that you're heading in the right direction.
Once your retirement plan is in place, review it regularly and make necessary adjustments to keep your plan on track. Along the way, you may need to refine your spending habits, savings rates, investment allocations, or planned retirement age.   
Don't Let Long-Term Care Wipe Out Your Assets
Long-term care expenses have the potential to devastate a retirement portfolio. Someone turning 65 today has an almost 70% chance of needing long-term care services in their remaining years, with an average duration of services of three years. (2) In 2020, the median cost for a home health aide was $4,576 per month, whereas a private room in a nursing home was $8,821 per month. (3) While home healthcare services have lower fees than a facility, they are used longer. 
No matter what your health looks like today, it's important to incorporate a plan to pay for long-term care costs in your retirement plan. Depending on your lifestyle and needs, some options for addressing long-term care include traditional long-term care insurance, a life insurance policy or annuity with a long-term care rider, or self-funding. 
Know How Much You Can Spend in Retirement 
When you're ready to retire, an established withdrawal plan will go a long way in putting your mind at ease that your savings will last. A common rule of thumb is to limit withdrawals to 4% of your portfolio to avoid spending down assets too soon. However, your safe withdrawal rate depends on your asset mix at retirement and how long you need your assets to last and will require adjustment over time. 
Careful distribution planning allows you to stretch your retirement assets further, giving you the best chance that your retirement income and portfolio assets will be sustainable throughout your lifetime. Your financial advisor can help you create a withdrawal strategy that navigates required minimum distributions and other withdrawals for tax efficiency, analyzes whether to delay Social Security benefits, and minimizes portfolio withdrawals during market downturns. 
Need Help Making Your Money Last?
At Rosemeyer Management Group, we like to say that personal finance is, well…personal. There's no single answer to when you can retire or how much money you need to live a comfortable life. Finding these answers begins with us doing a thorough deep dive into your financial situation and goals, so we can determine what steps you need to take to get where you want to be.
If you'd like help figuring out how to secure your money through retirement, schedule an introductory appointment online or by calling us at 608-348-2274. For any questions, feel free to reach out to me at regan@rosemeyermg.com. 
About Regan
Regan Shipp is an investment advisor representative at Rosemeyer Management Group, an SEC Registered Investment Advisor based in Platteville, WI. Regan is known for building relationships and looking at the whole picture of her clients' lives to provide personalized, comprehensive wealth management services and advice. She leaves no stone unturned as she integrates investment strategies, risk management strategies, tax planning, retirement planning, and estate planning to design a plan that will help her clients pursue both financial success and freedom throughout their lives. Regan strives to educate her clients so they can feel empowered to take the actions necessary to achieve their goals. Regan is passionate about making a difference in people's lives and loves journeying with her clients and seeing them reach new levels, surpass goals, and create wealth they might not have known was possible. Regan has a bachelor's degree in accounting and agricultural business from the University of Wisconsin-Platteville, is a Certified Public Accountant (CPA), and recently passed the CERTIFIED FINANCIAL PLANNER™ exam.
When she's not at work, you can often find Regan spending time with her friends and family or out on a run training for a half or full marathon. Regan and her husband, Payton, and their dog, Axel, love the outdoors and look forward to more camping, deer hunting, and beach trips. To learn more about Regan, connect with her on LinkedIn.
___________
(1) https://www.nirsonline.org/wp-content/uploads/2021/02/FINAL-Retirement-Insecurity-2021-.pdf
(2) https://acl.gov/ltc/basic-needs/how-much-care-will-you-need
(3) https://www.genworth.com/aging-and-you/finances/cost-of-care.html