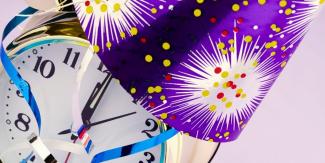 It's a New Year! Is it Time to Reevaluate Your Financial Plan?
A new year is upon us! The turning of the calendar is usually considered a time for fresh starts, intentional planning, and renewed motivation to conquer goals and accomplish things that are important to you (hence the tradition of New Year's resolutions). And after the last couple years we've had, a truly fresh start is just what we need. As you transition into 2022 and all this year will bring, take some time to think about your long-term plans and reevaluate your decisions, especially in the following key areas.
Tax Strategy Planning
In the wake of a change in administration, questions naturally arise about how tax laws could change and how that will affect your wallet. If tax rates increase for your tax bracket, (1) you may want to reconsider your savings and investing strategies. Keep in mind Biden's Build Back Better Agenda (2): The $1.2 trillion infrastructure portion of the bill was signed into law in November and the social spending part of the bill, which will involve many tax changes, was recently passed by the House and is awaiting approval in the Senate. (3)
The social spending bill has far-reaching implications for people in all tax brackets, and it's important to review the changes with a qualified professional in order to fully understand how your financial plan will be impacted and to put you in a better position to minimize any detrimental effects.
Because of how often new tax legislation is introduced, tax planning is not a one-and-done deal. Revisit your plan to make some shifts that will benefit you in the long run. 
Tracking Retirement Funds
As we learned from the Great Recession, it is important to stay proactive when it comes to your cash flow and retirement funds. The temptation to adopt a "set it and forget it" approach can create financial blind spots, especially when the demands of work and family make it challenging to carve out time to review finances. Make sure you or your financial advisor is on top of tracking and monitoring your investment accounts, retirement plan balances, and other assets, and commit to start keeping a pulse on the health of your family's finances at least once a quarter, if not monthly.
Insurance Coverage
Inadequate insurance coverage is a common issue that can derail retirement plans, especially in the event of unforeseen health problems or injuries that force individuals to retire early. A 2020 study found that only 54% of Americans have life insurance, and that 40% of policyholders reported that they wished they had bought coverage sooner. (4) Applying for coverage at a younger age can result in lower premiums, and policies of varying term lengths can be stacked so that your coverage decreases over time as your investment assets increase and your need for insurance decreases. It's prudent to make sure you have the proper policies and coverage for your unique situation.
Estate Planning
Regularly reviewing your estate plan is a crucial component of your financial strategy. Life moves quickly, and it is all too easy to forget how much can happen in a short period of time. Arrivals of new children or grandchildren, health conditions, asset purchases or liquidations (such as buying a new home), marriage/divorce, retirement, unemployment, remarriage, and deaths in the family can make a significant impact on the big picture of your estate plan. Additionally, potential changes in estate tax law which have been mentioned by the new Biden administration (such as reducing the estate tax unified credit) can necessitate revisions to your estate plan. Certain estate planning techniques can aid you in achieving your wealth transfer goals, whether they include bequests to individuals or philanthropic organizations, in a more tax-efficient way, allowing your heirs and charities to receive increased benefits.
Let Us Partner With You
As we settle into the new year, it's wise to anticipate and prepare for the changes that every season of life brings. By February, most people give up on those popular New Year's resolutions; so move toward securing your financial future now by checking off some of these items. 
If you are ready to reassess your long-term goals or would like to discuss how to build a solid foundation for your future, our Rosemeyer Management Group team is here to help. Our comprehensive process not only designs a customized plan for your unique future, but also accounts for the inevitable life changes that happen along the way, allowing you to breathe easier. If you need help with your plan, schedule an introductory appointment online or by calling us at 608-348-2274. For any questions, feel free to reach out to me at andrew@rosemeyermg.com. 
About Andrew
Andrew Tranel is co-owner and chief investment officer at Rosemeyer Management Group, an SEC Registered Investment Advisor based in Platteville, WI. With 10 years of experience, Andrew specializes in providing retirement planning, tax planning, estate planning, and insurance needs for his retiree and pre-retiree clients with the goal of helping them develop a road map to financial freedom. He is known for his expertise in helping people make empowered and educated decisions about their retirement so they can confidently navigate the pre-retirement challenges they face. Andrew has a bachelor's degree in finance and sport management from Loras College and is a CERTIFIED FINANCIAL PLANNER™ professional. When he's not working, you can find Andrew spending time with his wife, Kimberlee, their three sons, Steven, Elliott, and Weston, and their beloved boxer, Bella. He also enjoys hunting, golfing, playing basketball and softball, and traveling. To learn more about Andrew, connect with him on LinkedIn.
_____________
(1) https://www.forbes.com/sites/davidrae/2021/11/21/new-standard-deduction-and-higher-new-tax-brackets-for-2022/?sh=1e0666bf48dd
(2) https://rules.house.gov/sites/democrats.rules.house.gov/files/BILLS-117HR5376RH-RCP117-18.pdf
(3) https://www.forbes.com/sites/jonathanponciano/2021/11/15/everything-in-the-12-trillion-infrastructure-bill-biden-just-signed-new-roads-electric-school-buses-and-more/?sh=70d6c92161f4
(4) https://www.policygenius.com/life-insurance/life-insurance-statistics