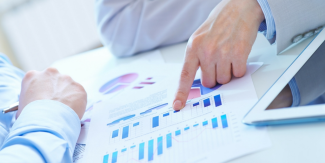 See a Sample Financial Plan
With a world of information at our fingertips, we can find reviews, history, product specifications, and more details than we'll ever need about anything we want to buy. In other words, before making a major purchase, we can arm ourselves with information to make the best choice possible. 
While creating a financial plan is in a different category than buying a car or putting an offer on a home, we believe it's just as significant of an investment and you should know what you're getting before you pay a penny. 
Because we develop custom financial plans for each client, it's no easy task to provide one without working with you extensively. However, we wanted to share what your potential financial plan could look like so you can picture the depth of our analysis and how this understanding can benefit your future financial life. If you choose to work with us, here is a sample of what you can expect. 
What Does a Financial Plan Include?
First, you may be wondering about what goes into a comprehensive plan. Financial plans often address a myriad of concerns and goals, from college planning to retirement income strategizing. Depending on your needs, your plan may narrow in on one element or address multiple goals you'd like to achieve over time, such as understanding your true cost of living before you retire, ensuring your money lasts throughout your life, and reducing the taxes you pay in retirement. Whatever you choose to focus on, your financial plan is designed to serve as your road map, helping you navigate the years before, during, and after your transition to retirement.
We believe a good financial plan should give you a detailed, complete view of your current financial situation, a thorough modeling of where you want to be, and the actions you need to take to reach those goals. It should address all the pieces of your financial puzzle, from stresses and fears to your values and dreams, and include risk factors, cash flow, retirement, estate planning, taxes, education, and income strategies to help bring you clarity and guidance. It is through our planning process that we can help you prepare for life's expected and unexpected circumstances.
The result is a simple yet powerful blueprint to guide you toward financial freedom. 
Let's Take a Closer Look
Here is a sample financial plan that reflects our planning process. It looks at a fictional client's lifestyle income plan and how we developed it, including identifying their goals, creating a balance sheet, reviewing their cash flow, and more. 
Keep in mind that this is only a hypothetical plan presented to illustrate what a client's plan may resemble should they work with us. The characters and circumstances are completely fictional and are for illustrative purposes only. Be sure to seek the advice of a qualified professional for your particular situation and not rely upon any of the information herein to make personal financial decisions.
We provide an overview of your current situation. With just one glance, you can see a big picture of your financial life, including assets broken down into specific categories and short-term and long-term liabilities. 
Our financial planning is goals-based. This means we help you develop specific budgets for your future goals and needs—pre and post retirement. This approach allows us to more accurately predict your future spending needs and accommodate for how those needs will change over time. Our advanced planning software allows us to bring all these things together in a comprehensive way that makes sense and test multiple scenarios to determine retirement readiness.
When it comes to investments, we will analyze your current investment holdings and continuously monitor your portfolio to ensure your investments are still on track toward your goals.
In addition to a detailed study of each of your goals and a clearly mapped-out plan to get you there, we also create a risk management plan to cover your bases and give you increased peace of mind. The end result? An actionable implementation list and a road map for your future. 
Get Started on Your Plan!
If you want to see even more features of our financial plans, download our full sample plan. Once you've taken a look, reach out to us at Rosemeyer Management Group today to schedule an introductory appointment online or by calling us at 608-348-2274. For any questions, feel free to reach out to me at andrew@rosemeyermg.com. 
About Andrew
Andrew Tranel is co-owner and chief investment officer at Rosemeyer Management Group, an SEC Registered Investment Advisor based in Platteville, WI. With 10 years of experience, Andrew specializes in providing retirement planning, tax planning, estate planning, and insurance needs for his retiree and pre-retiree clients with the goal of helping them develop a road map to financial freedom. He is known for his expertise in helping people make empowered and educated decisions about their retirement so they can confidently navigate the pre-retirement challenges they face. Andrew has a bachelor's degree in finance and sport management from Loras College and is a CERTIFIED FINANCIAL PLANNER™ professional. When he's not working, you can find Andrew spending time with his wife, Kimberlee, their three sons, Steven, Elliott, and Weston, and their beloved boxer, Bella. He also enjoys hunting, golfing, playing basketball and softball, and traveling. To learn more about Andrew, connect with him on LinkedIn.