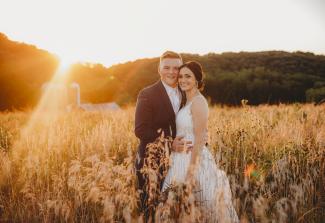 Why I Became a Financial Advisor
Some things in life captivate us from a young age and never stop fascinating us. For me, that something is finance. This fascination began with an unfortunate event: the housing market crash and subsequent Great Recession of 2008. But often in life, good things can come out of difficult times, and that's what happened for me.  
While the Great Recession had a global impact, it also became very personal as I felt the financial burden this crisis placed on my parents and family. This led me to begin researching and learning about the inner workings of financial markets, and not long after, I was hooked!  This new interest and growing knowledge, combined with my innate gift for numbers, has led me to the path I am on today as a financial advisor.  
Finding My Way
This path was not always clear to me. I've always had a knack for numbers, but could never visualize a meaningful career utilizing that skill set. Even after discovering my passion for finances, I did not necessarily imagine my future career in financial services. Still, I knew this was the direction I wanted to follow, so I pursued a degree in finance with a minor in accounting from the University of Wisconsin-La Crosse. Prior to and throughout college, I held various jobs that grew and added to my skill set, working as a farm hand during the summers, then in the restaurant industry. These experiences helped develop my work ethic, communication, and people skills, which are all valuable assets in my current position.  
Though my skills in math and my passion for the financial industry work very well together, I didn't make the connection to utilizing those in a career as a financial advisor until I had the opportunity to work for the Rosemeyer Management Group four years ago. During my internship as a research analyst, I quickly realized that I was meant to be a financial advisor. I was able to combine my math skills and knowledge of financial markets, but, more importantly I was given the opportunity to serve families and individuals—which I now realize is my true calling in life. Being able to serve others intentionally in the setting of the RMG family has been such a blessing and gives me the assurance that being a financial advisor is the perfect career for me. Very rarely do people's passions, skills, and abilities line up with their career, but I am lucky enough to do what I love every day.
On the Right Path 
Once the lightbulb went off and I realized that a career as a financial advisor was the perfect culmination of my education, skills, and passions, I gained momentum toward pursuing this goal. In 2021, I  graduated with my degree and became an investment advisor representative with Rosemeyer Management Group.  My days here are spent working hard to create comprehensive and customized financial plans for our clients so they can reach their retirement goals. I aim to educate and empower clients, helping them understand how to make their hard-earned money work hard for them.  
I am passionate about serving our clients because in each one of them I see my parents, or my siblings, or any of my loved ones. I see people who work hard for their families and themselves. I am honored that my clients allow me to assist them on their financial journey to make sure their hard work pays off in the form of sound financial decisions. I am also passionate because I believe that for many years this industry did not have the best interests of the average American at heart. My hope is to help redefine the financial industry as one that helps the blue-collar family rather than harms it. 
A Fulfilling Journey
One of the most fulfilling parts of my job is working alongside clients, helping them through their financial difficulties and celebrating their successes. Seeing clients realize they have achieved their long-desired financial and personal goals never gets old. This joy and respect for the hard work of our clients is what drives me to serve them humbly and honestly every day. I am also honored to work for this firm and with coworkers who are like family.
When we start out on a journey, the path may not always be clear, and we may not even know where we are headed; but if we have faith and follow God's will for us, pursuing the next right step, we will end up right where we're supposed to be. That's where I find myself today and I'm so grateful to be here.  
Take the Next Step
Here at Rosemeyer Management Group, we're always open to meeting new people and seeing how we may be able to help. Whether you've already started planning for the future or have yet to put strategies in place, we encourage you to reach out today for a no-obligation conversation to see if we'd be a good fit. Schedule an introductory appointment online or by calling us at 608-348-2274. For any questions, feel free to email us directly at payton@rosemeyermg.com. 
About Payton
Payton Simon is an investment advisor representative at Rosemeyer Management Group, an SEC Registered Investment Advisor based in Platteville, WI. Payton spends his days providing in-depth investment analysis and aiding in the development of customized, comprehensive retirement, tax, and estate planning strategies to help his clients reach their retirement goals. Payton is passionate about doing his best for every client he serves and making sure they don't have any blind spots or missed opportunities in their financial plan. He strives to do his part to close the financial literacy gap so people can feel confident and empowered about their financial future. Payton has a bachelor's degree in finance with a minor in accounting from the University of Wisconsin-LaCrosse. Outside of work, Payton is active in his local Catholic parish and incorporates his faith into every aspect of his life. He loves spending time with his family and friends and is a sports enthusiast, playing golf, basketball, and baseball. To learn more about Payton, connect with him on LinkedIn.